Founders Bridge Homes for Sale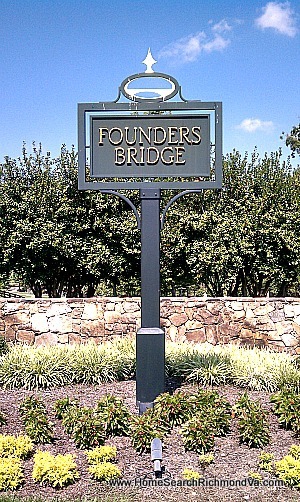 Search all Founders Bridge homes for sale, listings of homes, townhomes, condos for sale, plus Founders Bridge information. 804-248-8207
Situated on over 600 acres of beautiful, wooded land you will find the Founders Bridge community, which straddles Chesterfield County and Powhatan County. Upon completion, the neighborhood will consist of over 400 homes of all shapes, sizes, and budgets.
Amenities are numerous for residents of the Founders Bridge community in Chesterfield County and Powhatan County. There are 3 swimming pools, a playground, tennis courts, miles of nature trails, and a park to keep you busy without ever getting into your car!
At the heart of the Founders Bridge community in Chesterfield County and Powhatan County is the open-to-the-public Independence Golf Club, designed by Tom Fazio. As home to the Virginia State Golf Association (VSGA), residents of Founders Bridge have the opportunity for membership to the VSGA and receive many discount and benefits. In addition, the Charles House Bar and Grill is on-site for those days you just don't feel like cooking!
As if that were not enough to make you want to call Founder Bridge home, there is also a very active social scene within the development with events such as a Cinco De Mayo party, Easter Egg Hunt, New Year's Celebration, Fall Fest, and many other chances to get to know thy neighbor!
Chesterfield VA and Powhatan School Information for Founders Bridge
Students who live within the Founders Bridge community may attend one of these Chesterfield County Public Schools or Powhatan County Public Schools:
Bettie Weaver Elementary School or Powhatan Elementary School
Robious Middle School or Pocahontas Middle School
James River High School or Powhatan High School
Private schools and commuting are also convenient with Route 288 just a stone's throw away!
Make Founders Bridge Home
Where do you sign? Let's start with a tour! Check out the Founders Bridge Homes for Sale below and then contact me, your Richmond VA Realtor, today to make Founder Bridge HOME!