Super Tuesday: Get Out and VOTE, RVA
Posted by Shannon Milligan on Tuesday, March 1, 2016 at 10:02:55 AM
By Shannon Milligan / March 1, 2016
Comment
Super Tuesday: Get Out and VOTE, RVA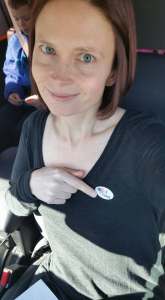 It is Super Tuesday, get out and VOTE, RVA! I have to admit, voting hasn't always been something of a high priority for me. I have voted in the past for the "big" elections, but never for the primaries. I don't know why. Maybe because with age you learn when you know better, you do better. So, this morning I woke up on a mission. The kids are off school today so I hurried them along around 9:30am to head on out to the polls. They were FILLED with a ton of questions, the biggest one being WHY I HAD to go and vote. I explained to them that, as an American, it is their civic duty to vote. To help select the next great leader of our world. While I truly believe that, it isn't what spurred me to get to the polls today. What nagged at me? I wanted the RIGHT to be able to complain. Yep. I said it. I am not one to sit and complain often. The old Shannon certainly was a complainer, but about 4 years ago I decided to flip the tape that had been playing in my head and I CHOSE to be a positive person. I DECIDED my life was way too short to live in a world where the glass was half empty. Now my  cup runs over! Back to voting, for the first time in my life I am actually scared about where our country is heading. We are a nation deeply divided and that scares the living daylights out of me. This feeling is likely more prevalent because I am seeing what kind of world my kids will grow up in. I want better for them. Don't all parents want better for their kids? I just couldn't reconcile in my head how I had any right to gripe if I didn't get out there and INFLUENCE the outcome.
Three Mental Buckets
You see, I now live by a "three mental buckets" rule. What the heck is that? Well, it is something that helps me put things into perspective and stress less over the everyday bumps in the road. Ready? Bucket One you have total control over. I can control what I eat, what I allow in my mind, and who I allow to take up space in my head. TOTAL CONTROL. Bucket 2 I can influence. This is where voting falls. While I can't control who will ultimately win, I absolutely can influence it. Don't think a single vote can? Two words:
HANGING CHAD
. Bucket 3 you can not control or influence, matter of fact you can't do anything about it. Buckets 3 is the one where you just top fretting and move on. This little Life Rule comes in handy all the time and has had a major influence on my 4 pillars: health, wealth, family, and Faith.
Just Do It
Now, I am not going to sit behind a computer and debate who you should vote for.  Actually, I really don't care. I respect you and YOUR RIGHT to vote for whomever you feel will get the job done and done well. JUST DO IT! Strap on your Nike's and make your voice be heard! Don't know if you are registered? Take 2 minutes and go to
www.canivote.org
to see. I happened to have thrown away my registration card and used this site today. Don't know where your precinct it? That very same website can get you to where you need to go!
Richmond VA Realtor
Need a
Richmond VA Realtor
who will assist you, calmly, through the real estate market? Contact Shannon Milligan at
RVA Home Team
with Keller Williams Realty today!