5 Mistakes People Make When Buying a Home
Posted by Shannon Milligan on Tuesday, March 8, 2016 at 10:52 AM
By Shannon Milligan / March 8, 2016
1 Comment
5 Mistakes People Make When Buying a Home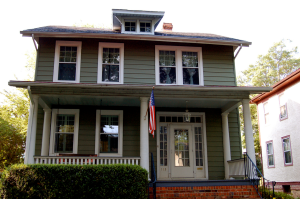 So you have decided to purchase a home, CONGRATS! You are about to embark on a very exciting journey! Now is the perfect time to get off the fence and get in the Richmond VA real estate market because interest rates are low, employment is strong, banks are loosening requirements, and rental rates are increasing. Investing in YOU, and not your landlord, has never looked so good! That said, don't let excitement get the better of you! Take a moment to let your head catch up with your heart and don't make these 5 mistakes people make when buying a home!
Not Hiring a Buyers Agent
Let me ask you a question: if you were on trial for a crime, would you be hiring the prosecutors lawyer? That doesn't even make sense, and neither does using the seller's Realtor as your agent, too. You see, when a listing agent enters into a dual agency agreement, representing both YOU and the seller, the agent must become neutral. When you ask the agent how much you should offer, they can't weigh in. They can only provide you the comps and allow you to come to your own conclusion. When you ask the agent what items you should ask for on the home inspection addendum, they can't advise you. What good it that?! Now, some listing agents will not enter into a dual agency agreement, I am in this camp. However, some WILL try and convince you to be an unrepresented buyer, thus securing their duties to the seller AND securing both ends of the commission for themselves. I am NOT in this camp. I firmly believe you, as a buyer, should have your very own representation. Someone who will look out for YOUR best interests. Someone who will guide you throughout the home buying process and BEYOND. (This is important. Ask me for references, call my past clients and ask how important it is to have someone looking out for you well beyond the sale!) Don't make the mistake of going it alone, make sure your hire a Richmond VA Realtor of your very own. In 99.9% of cases, it will not cost you a DIME!
Not Getting Pre-Qualified From the Start
This is a big no-no. First, most great agents will not show you homes for sale in Richmond VA without you having a pre-qualification letter. Why? Several reasons. Real estate agents don't get paid unless a buyer actually purchases something. If an agent drives you around only to find out you are not in a position to buy a home, they just spent a small fortune on gas AND they missed out on an opportunity to work with someone who IS qualified to purchase a house. Also, no Realtor wants to break your heart. There is nothing worse than showing a buyer something, having them fall in love, and then realize they can't have it. I would rather you be a little annoyed with me asking you to take 30 minutes to speak with a Richmond VA mortgage lender to get a pre-qualification than mad at me later when I inform you that house ins't possible. Second, you are entering a very competitive real estate market. Here in Richmond, VA we are seeing multiple offers on many properties and if you don't have your pre-qualification letter, you can't even compete. It is like showing up to the big game in the fourth quarter with two minutes left. You are left scrambling to talk to a lender, get the pre-qual letter, and submitting your offer when the other team has already secured the win because they came prepared. Do yourself a favor and get that piece of paper!
Not Having a Financial Plan
Yes, buying a home is amazing and an investment in yourself, however there are many expenses that come with purchasing a house that you may not have thought of beyond the mortgage payment. For instance, you need closing costs. Yes, we still see some sellers paying for closing costs on behalf of the buyer, however this is not the case with the "hot" properties that are seeing multiple offers. When you are in competition, the cleanest offer is the best and being in a position to pay your own closing costs is a nice little play to have in your book. Another example is having a down payment. Sure, there are now mortgage products that require no, or little, money down. However, in most cases you will be paying something called PMI, which is basically insurance as the bank is taking a higher risk. If you can avoid PMI, you will have a lower payment each month which means big savings over a 30 year loan! In addition, you will also need some funds for inspections and appraisal. Since I am a Dave Ramsey fan, I also suggest you have a little emergency fund for a rainy day. Just last month my roof failed and it is not covered by insurance. My husband and I had to spend thousands of dollars to replace it. This was certainly a shock to us as we thought we had another 35 years before we had to take on an expense like that. Fortunately, we set up an emergency fund last year and could afford this unforeseen expense. Sinks will clog, fuses will blow. Having a slush fund, even a small one, will give you peace of mind!
Not Examining Long Term Goals
Have you seen the State Farm "Never" commercial where the man says he is never getting married, never having kids, never living in the suburbs, never getting a mini-van, etc? Oh, how very accurate that commercial is! While living in a chic 900 square foot condo in the heart of the city may be your dream, your reality may be that you need a 3000 square foot colonial in a popular school district. I encourage you to sit down with your significant other to discuss where you will be in 7 to 10 years. Real estate is a phenomenal investment over the LONG run. It is not wise to purchase a home to only move 2 years later. If you are unsure, this Richmond VA real estate agent recommends you rent until you know what you want.
Being Inflexible
Life is full of compromises and purchasing a home is no different. Unless you are Oprah or Bill Gates, we all have budgets and living on a budget means making tradeoff's. As your Richmond VA Realtor, I will do everything in my power to get you that newer home, in a great location, and within your budget. However, sometimes that just doesn't exist. In this case, I always recommend you focus on location first. Where do you want to live? Once you have that narrowed down, then think about floor plan and layout. Then, think about the creature comforts such as granite counters and hardwood floors. The fact of the matter is you can easily add granite and hardwoods later, but you can't just pick up your home and move it! Just yesterday I was with a buyer who wants a newer, updated home in a great location. Sadly, that is not in their budget. I explained they have to make a choice as the newer homes in their budget are not in a location that they desire. However, I can help them get an older, specious home in a nice neighborhood!
Home Buying Process
Now that you have learned the 5 mistakes people make when buying a home, you are ready to embark on the Richmond VA home buying process! Give me, Shannon Milligan at RVA Home Team powered by eXp Realty, a call today to get started! I will be there to coach you around the bases and get your home safe!